Open Banking One Workshop
September 19th
Buy Way
OB-1 "May the open banking force be with you!" by Ibanity
PSD2 enters into full force on September 14, so what's next? In our previous workshops we still focused a lot on PSD2 and not enough on open banking. This time we are going full on open banking as open banking is not just about banking.
We want to go beyond banking and brainstorm new customer journeys including banking activities. For this to happen we want to mix financial and non-financial services together. This means non-fintechs, fintechs and banks all together, creating new flows by integrating each other's products. The opportunities are limitless! For example I see a car, I take a picture of it, I buy the car with a loan or my own credit.
The goal of all this, is to improve collaboration between all parties and broaden the minds. There is much more out there than only PSD2 data so let's explore together and mix and combine!
Practical
Buy Way will provide drinks and snacks to feed the braincells. Our very best Marc Lainez will be there to moderate and experts of Ibanity will be there to guide the different groups. Try to make sure that you come prepared and already try to fill in some platform cards (image below) for your company.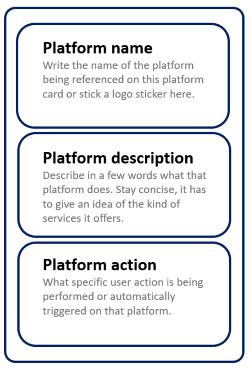 Agenda
Introduction by Marc Lainez
Prepare platform cards for your product/platform (don't fill in the action part yet) – 10'
Form groups of 5, with at least 1 banker in each group – 2'
Start by explaining your platform card (name & description of your product/platform) – 3'
Create as many new customer experiences as you can think of by combining at least one bank platform card and one non-bank platform card – 15'
Explain the customer journeys to the whole group – 15'
Short break – 5'
Create as many new customer experiences as you can think of by combining at least one bank platform card and one non-bank platform card – 15'
Explain the customer journeys to the whole group – 15'
Dot voting for the best customer journeys – 10'
Closing remarks – 5'
Networking session at around 20.30h
Organised with the support of